Theses are kits I have available for purchase. Please email your order to me, basketsofblessings@gmail.com or call
715-447-8497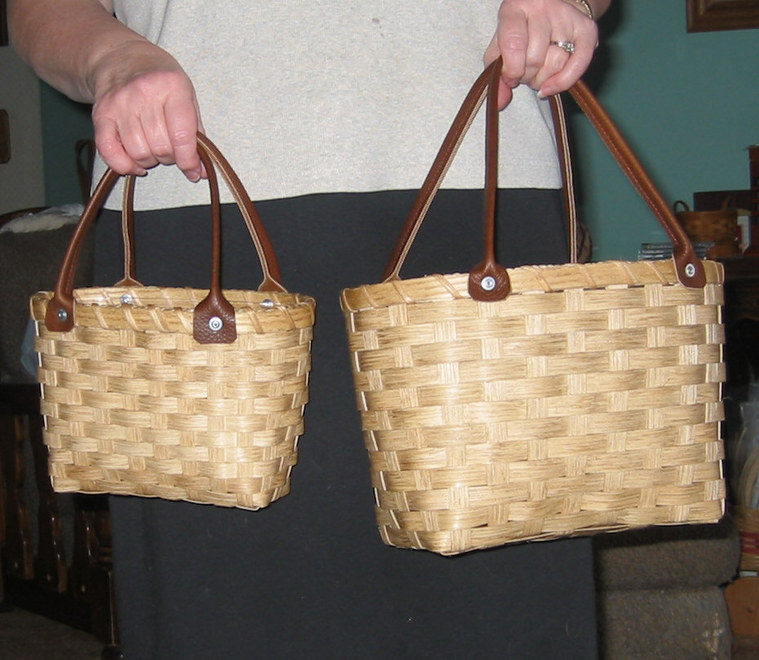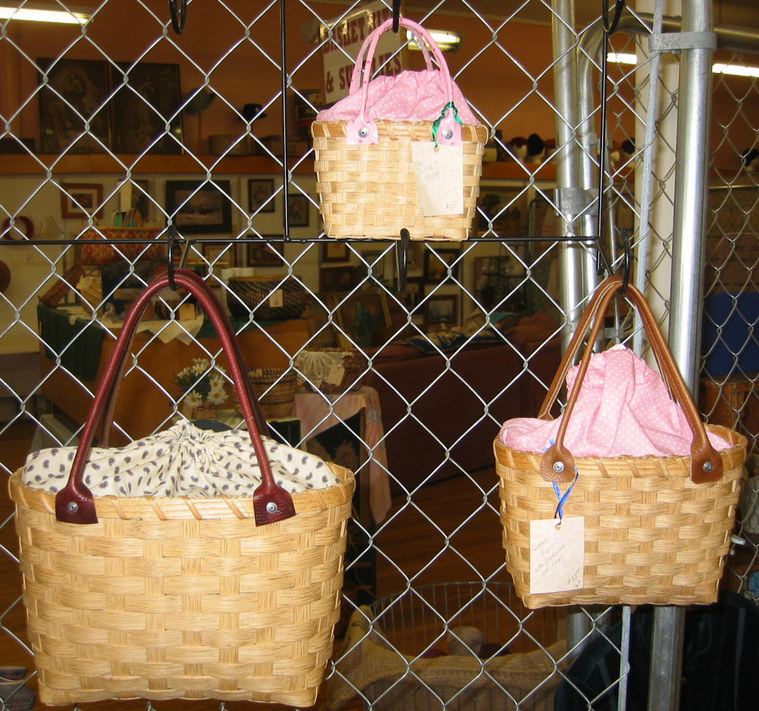 These adorable purses come complete with leather handles and plastic protector













Little Purse $25. (right picture, top purse)


Small Purse $30. (left picture - left purse)
(right picture - right purse)



Medium Purse $37. (left picture - right purse)
(right picture - left purse)






Double Handled Carrier
13" by 13" by 8" high with two swing handles. This is a very sturdy but beautiful basket. Available in a variety of colors. $38.00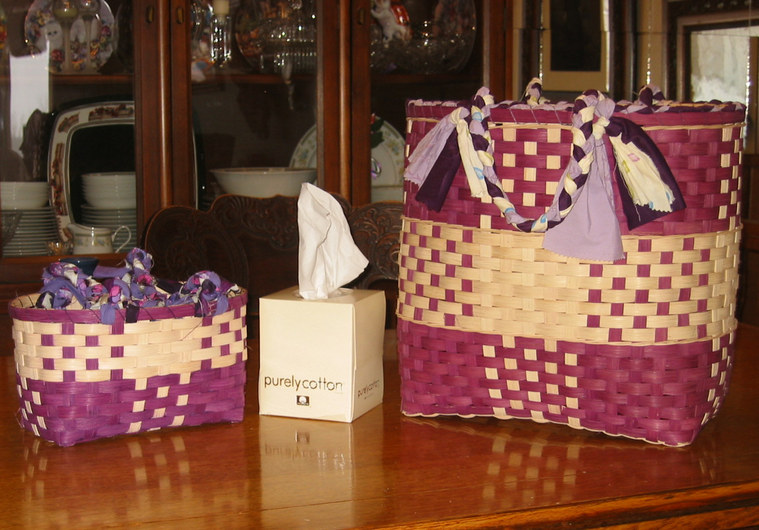 Naomi's Woven Quilt Basket

by Naomi Risatti
15" by 11" by 15" tall and has matching braided handles! It is easy to weave, just watch the shaping so you don't come in too tight as you weave up the sides :) They are adorable in any color. When purchasing the kit please specify the color.
$42.00




Little Woven Quilt

measures 10" by 7" by 6" tall and comes with matching braided handles as well. It is very easy to weave. When purchasing the kit please specify the color in the comments section.
$27.00

colors: Violet(pictured), bright green, moss green, navy, sky blue, walnut, yellow, wine, rust.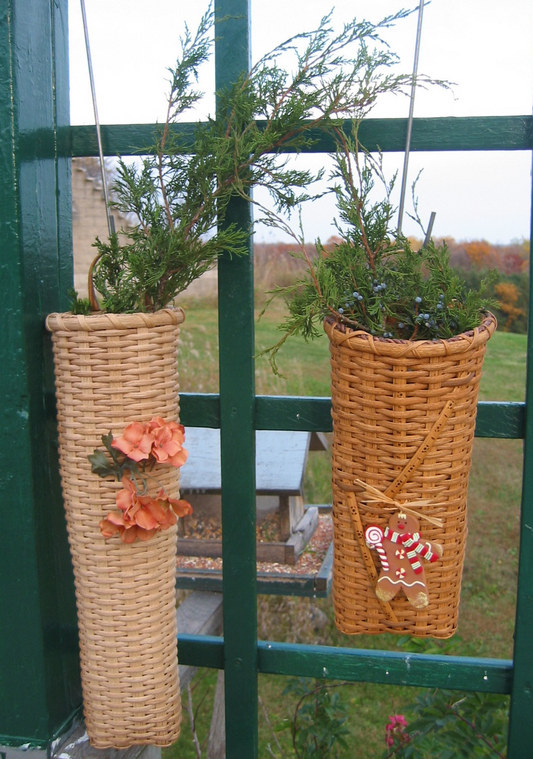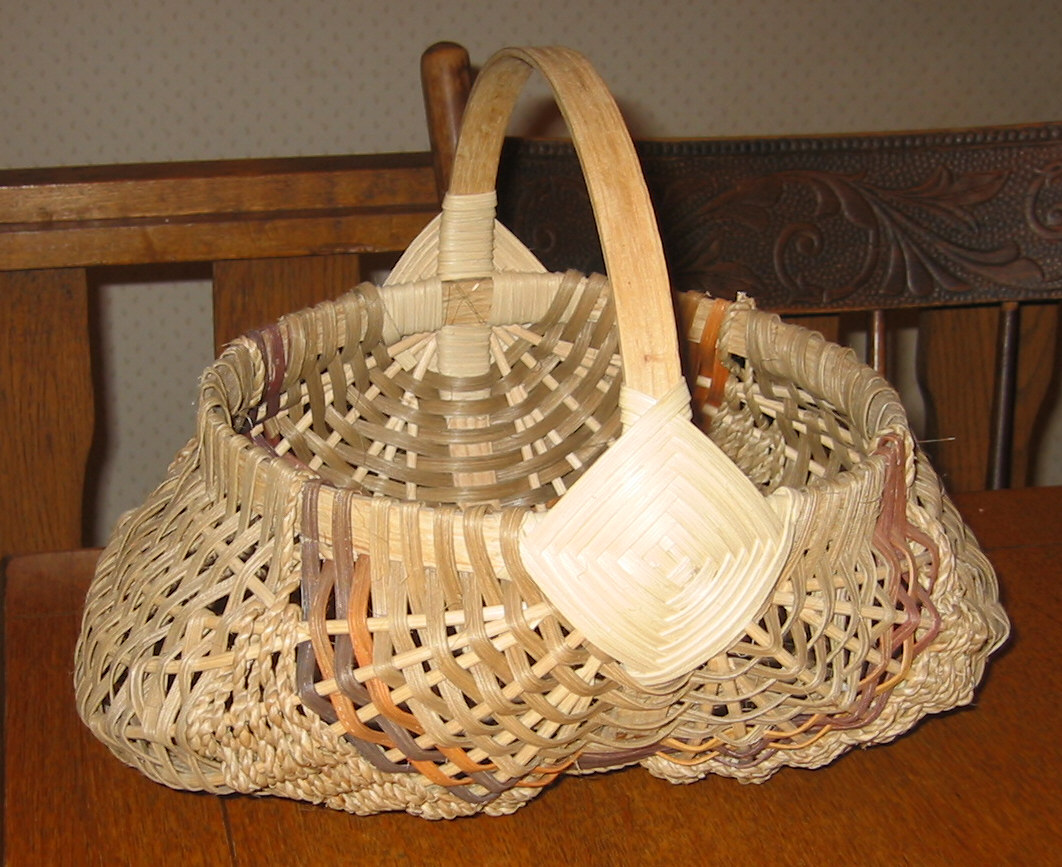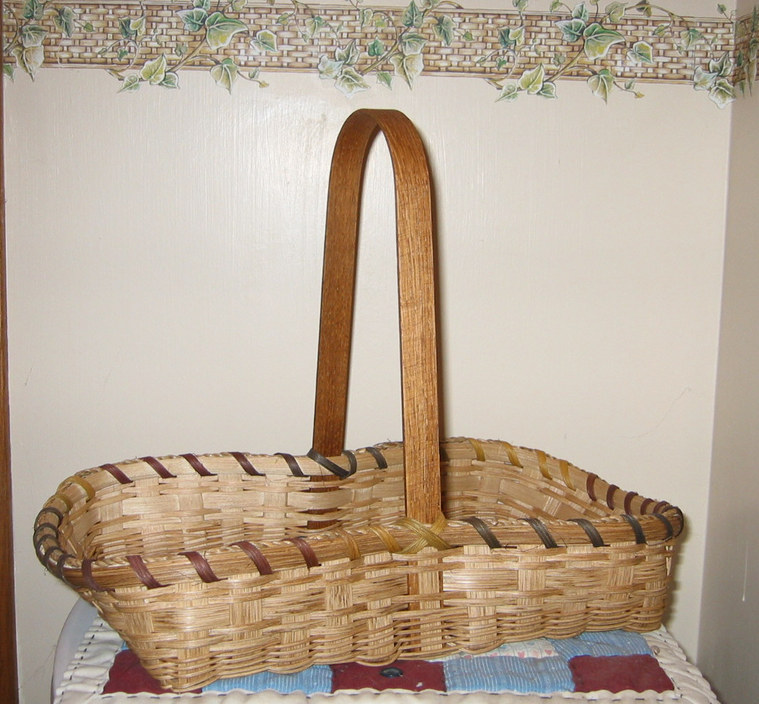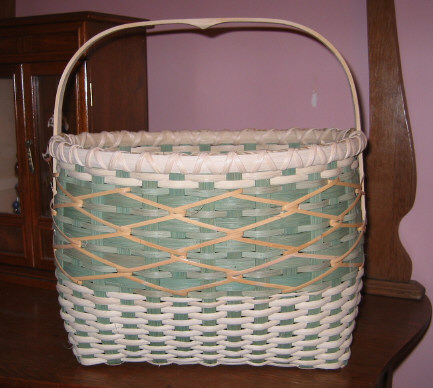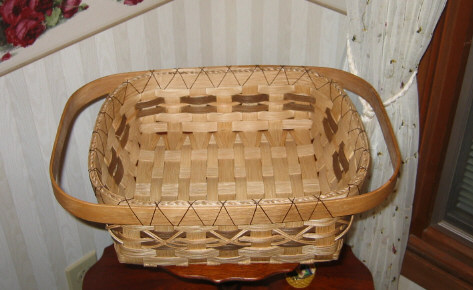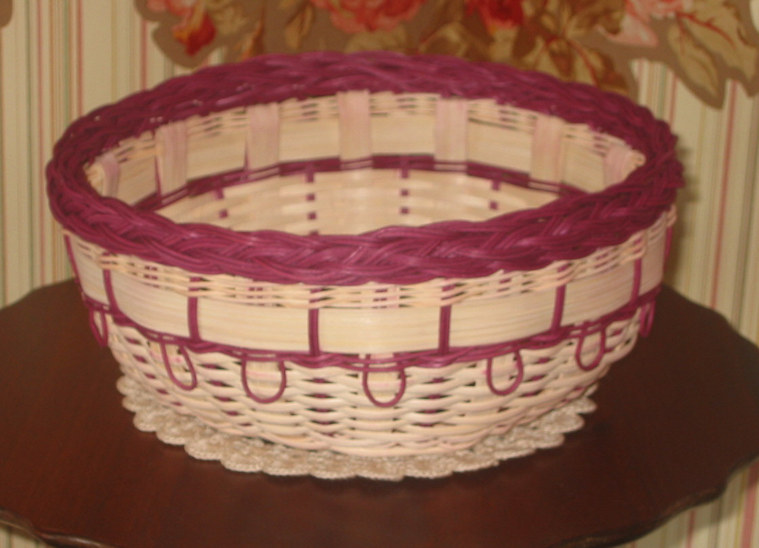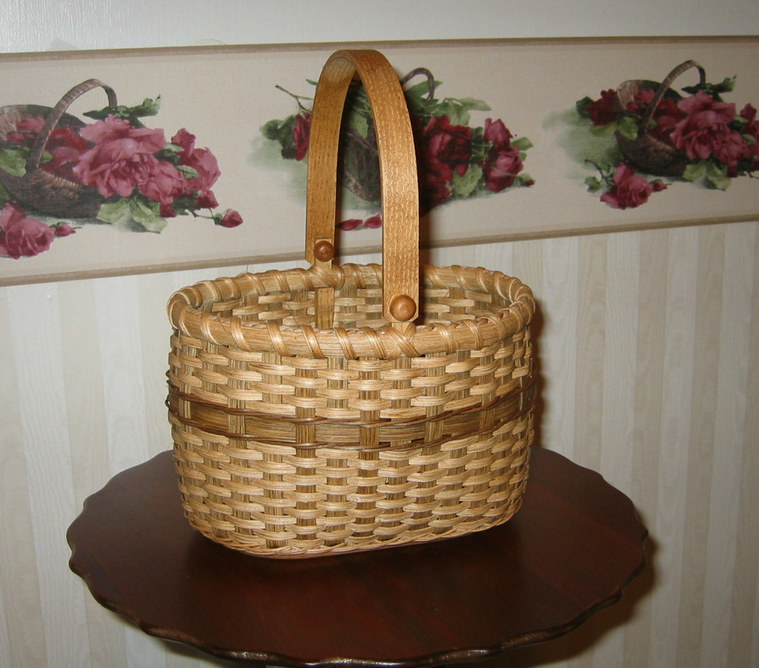 Fancy Egg Basket

$28.00
10" hoop for rim and handle. Some rib basket weaving helpful.

Dried Weed Basket

$29.00
make whatever height you like. Comes with an oak handle placed on the back for hanging. Embellishments not included

Stacking Shelf Organizer or Casserole Carrier $32.00
10" x 16" x 5" with handles
This is a solid woven base, very sturdy and beautiful! Unique design. Stand it on the side and use it as a shelf or hang it up for a towel bar.


Star Flower
$27.00
This is prettier on the base that the sides! You'll want to hang it on the wall. Color choices available. Learn to make a simple braided rim! Not as hard as it looks!
The Waste Basket

10" dia. 12.5" high
Your choice of color.
Twined base and easy to weave. Beginner level

$30.00

Heather's Seasonal Gift Basket


$36
Weavers House
$30.00
Twill Tote

with leather handles $36.00

13" x 10" x 10" high without handle.

This is a solid twill base and sides. A good basket to learn the twill weave! It's fun to make and use!

My Fair Lady
$42.00
12" x 14" at the top and 10" high not including the handle. Lots of fun techniques, fully described in the pattern. Your choice of accent color.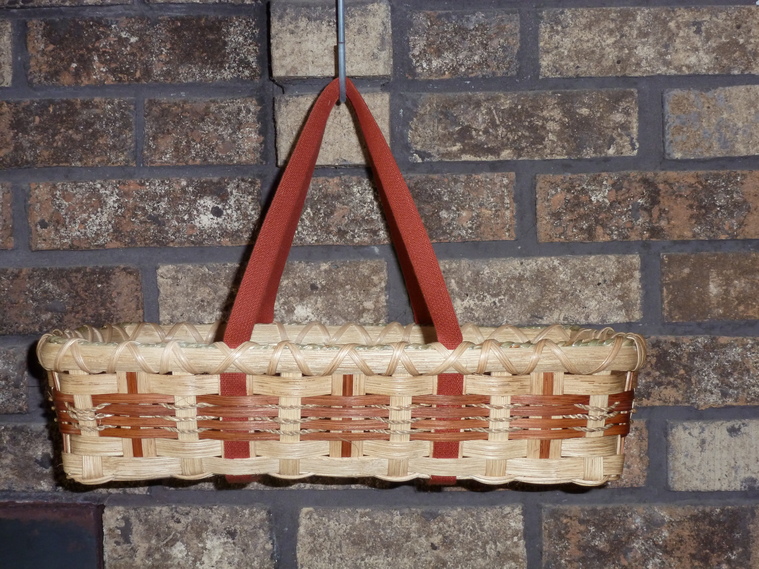 Cake Taker

$30.00 holds a 9" x 13" cake pan with cover. Solid filled in base. Shaker tape handles. Color choices available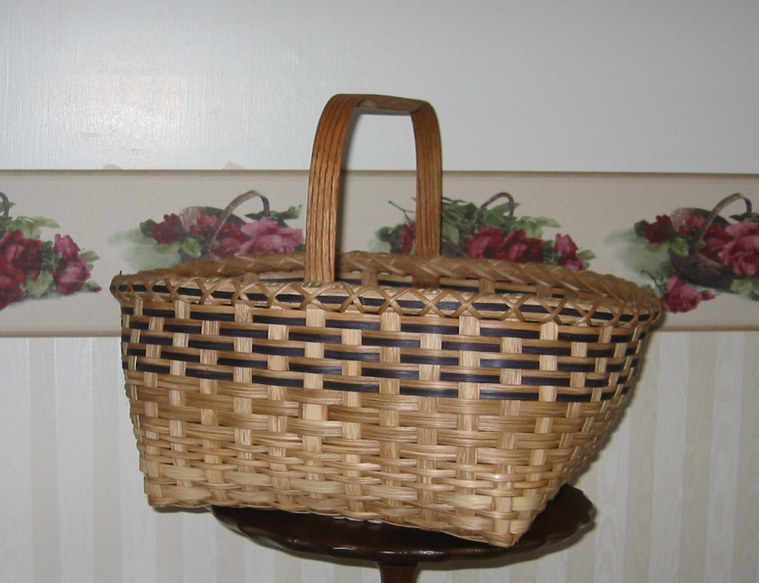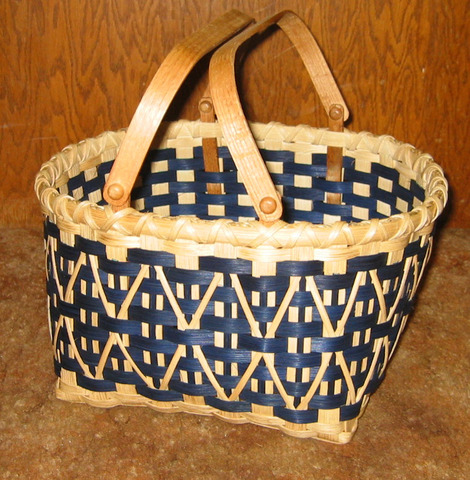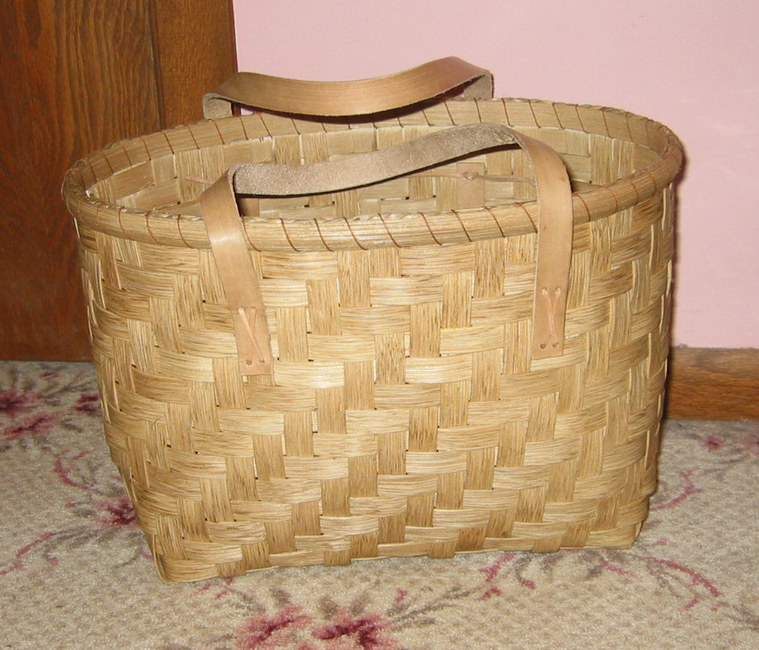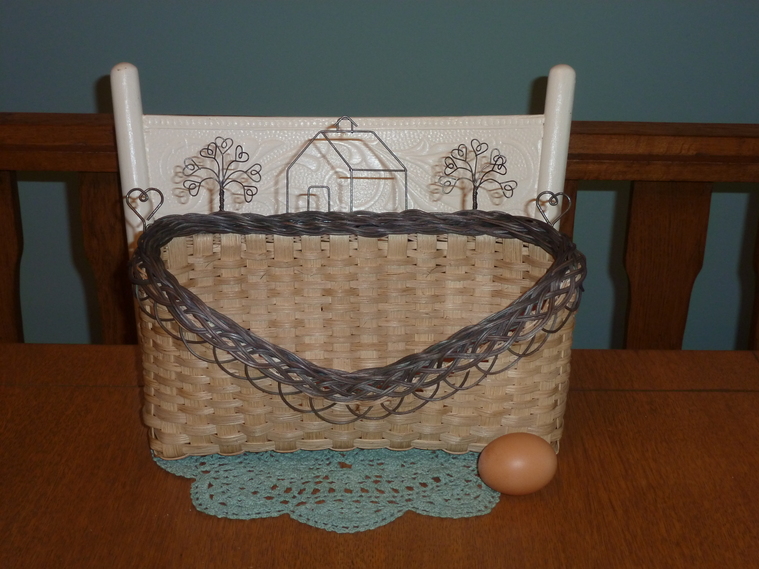 The Copper Pot

$30.00
Begin with a copper painted wood base and weave a continuous weave to the center where you will place real copper overlay onto a 1/2" flat reed weaver. Copper overlay on the rim as well. The handle is copper finish with a wood grip. Very fun!

Cherish

$36.00
This elegant basket is an advanced level. Shaping techniques, continuous weave and triple twining are taught on this Williamsburg handle. 7" square on the bottom with a flare to the width of 12"

Winsome Welcome

$35.00

This basket measures 17"long by 4"deep by 5" high. It includes techniques such as weaving 3 rows of weavers at once. Twining back and forth and keeping the pattern the same. Twining to create "hills & valleys". The beads are amazing authentic vintage glass beads in 2 sizes that
I acquired. When they are gone, there are no more available.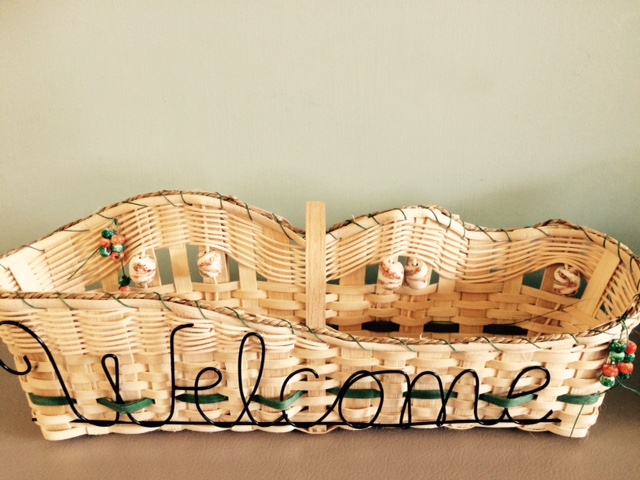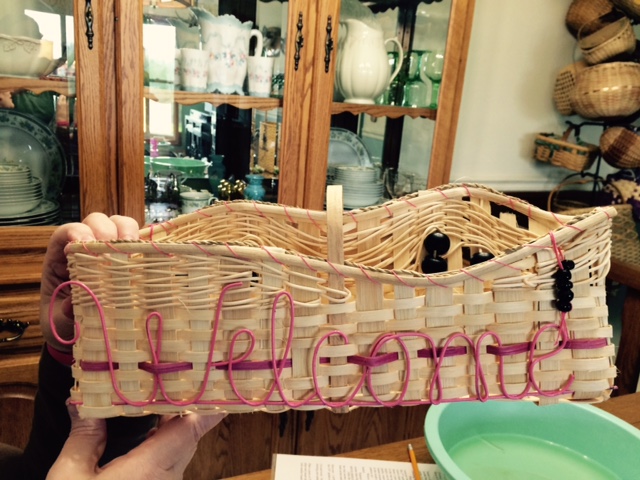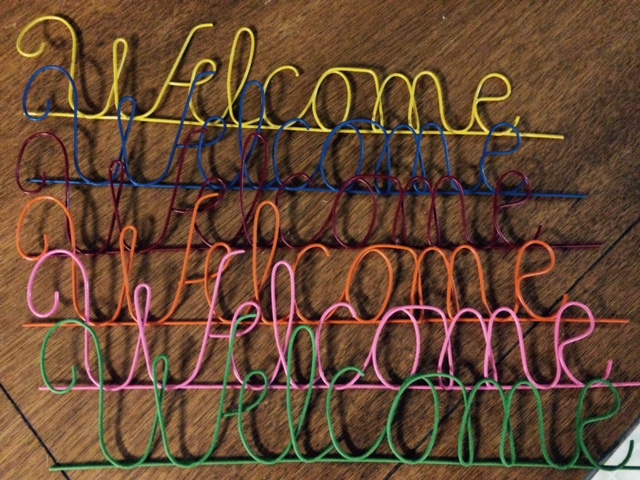 Color choices

- Yellow, Blue, Antique Red, Fall Orange, Pink, Green, Black.

I will co-ordinate the vintage glass beads to match!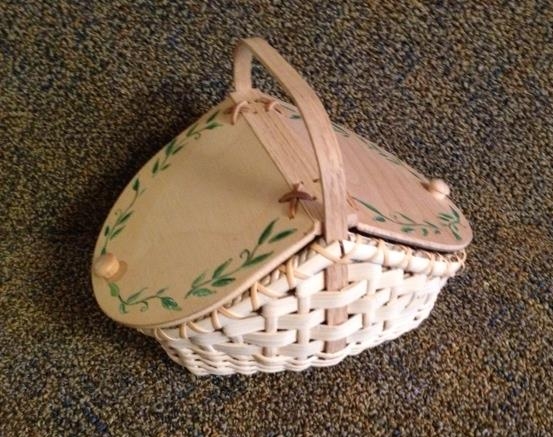 intermediate to advanced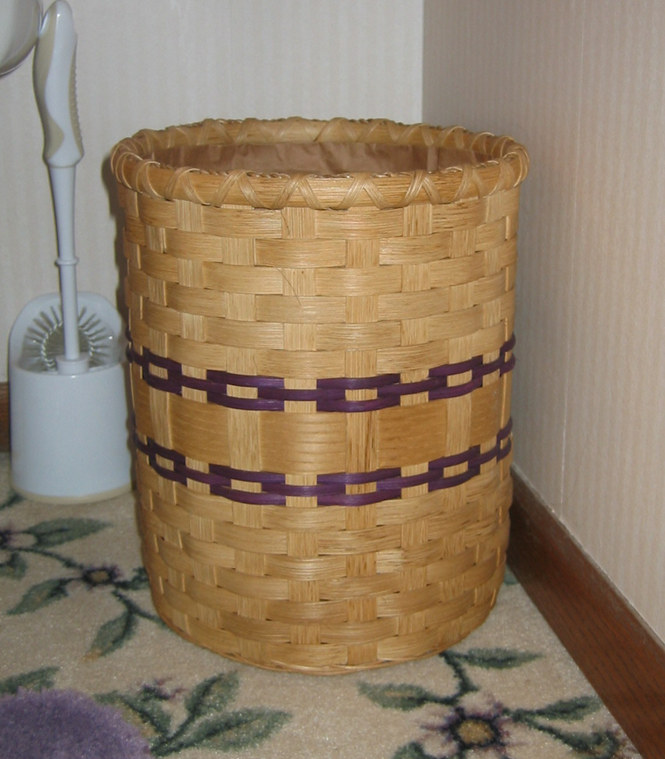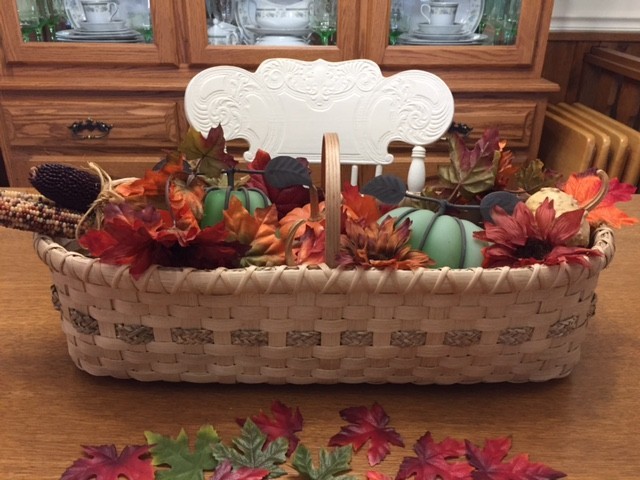 Table Runner by Jeanie Penick
6-7" wide/20" long
Beautiful way to decorate for each season. Woven on an oak base, accent of braided seagrass and topped with a push-in handle.
$38.00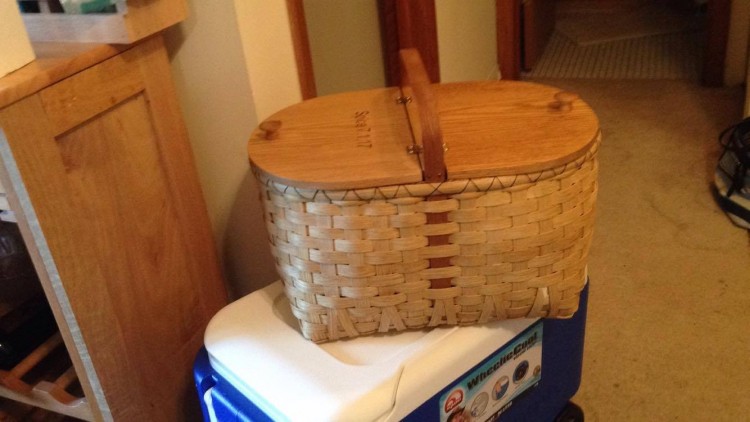 Picnic Basket

12" x 15" not including handle. The lid is beautiful as it is, or can be painted or wood burned to make it personal. I have made many of these for a wedding card basket. Just mention this and an extra lid is included with a card slot in it.
$39.00 extra lid is $10.